Environmental WaterProof Testing Equipment Rain Spray Test Chamber for Ipx5 Ipx6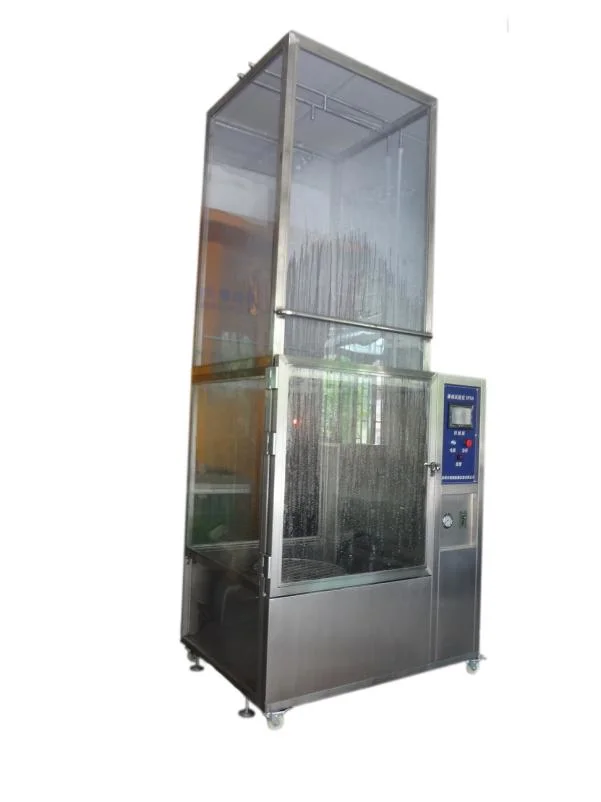 Product Description
Rain spray test chamber simulates the watet drip environment to test the water resistance and sealing of
the samples during storage, transportation and usage. It is widely applied to electrical and electronic
products, lamps and lanterns, electrical cabinet, electrical components, automobile, motorcycle and its
spare parts and other products. It provides the basis to improve the performance of the products.
This product uses the scientific design makes the device capable of realistic simulation drip, water spray, splashing water, environmental, water and so on. Into the overall control system and the use of inverter technology, making the rotation angle of rainfall in the test frame, spray angle and swing the pendulum swinging spray volume can automatically adjust the frequency.
Product

:

Waterproof Testing Machine
Meeting Standard of IEC60529, IEC60598, IEC60335, IEC 60034-5:2000
IPX5, IPX6 original nozzle with an angle adjustable device.
The main technical parameters
Model
XB-OTS-800P
XB-OTS-1000P
Internal Dim.W×H×D(mm)
800×800×800
1000×1000×1000
External Dim.W×H×D(mm)
1250×1800×1100
1750×1850×1300
Water Temp.
Normal
Normal
Spray Type
Total Water
Flow
(L/min)
R1
1.8
IP×1
With in 1~1.5mm/min(In drip box)
R2
3.2
IP×2
With in 3~3.5mm/min(In drip box)
S1
24.5
IP×3
angle±600,R:400mm,1.1L/min
S2
39.2
IP×4
angle±1800,R:400mm,1.8L/min
Pressure of
spray nozzle
(kgf/cm*2)
R1
0.1
1.Flow rate of the water=0.07L/min
2.1P×3,Radius:400mm,16Number or open
holes=16,total water flow:1:1L/min.
R2
0.3
3.1P×4,Radius:400mm,25Number or open
S1
1
holes=25,total water flow:1:8L/min.
S2
3
*Radius:200mm,R400mm.
(For 1P×3,1P×4 only)
(RPM)Test Specimen Frame
17RMP
1RPM
Spray Nozzle Rotation Speed
23RPM
Promote the pipe on both sides of the vertical line of 30 °
each time back and forth about four seconds to promote
Swing 60 ° from vertical for 4 seconds at one time
Promote the pipe on both sides of the vertical line of 180 °
for about 12 seconds to promote one round
Swing 180 ° from vertical for 12 seconds at one time
Material
Interior
SUS#304
Exterior
Other Components
Chamber lamp.Wiper
Chamber lamp.Wiper,casters with Adjusters
casters with Adjusters
Power Source(K.W.)
AC 1Ψ 220V 60/50Hz 4KW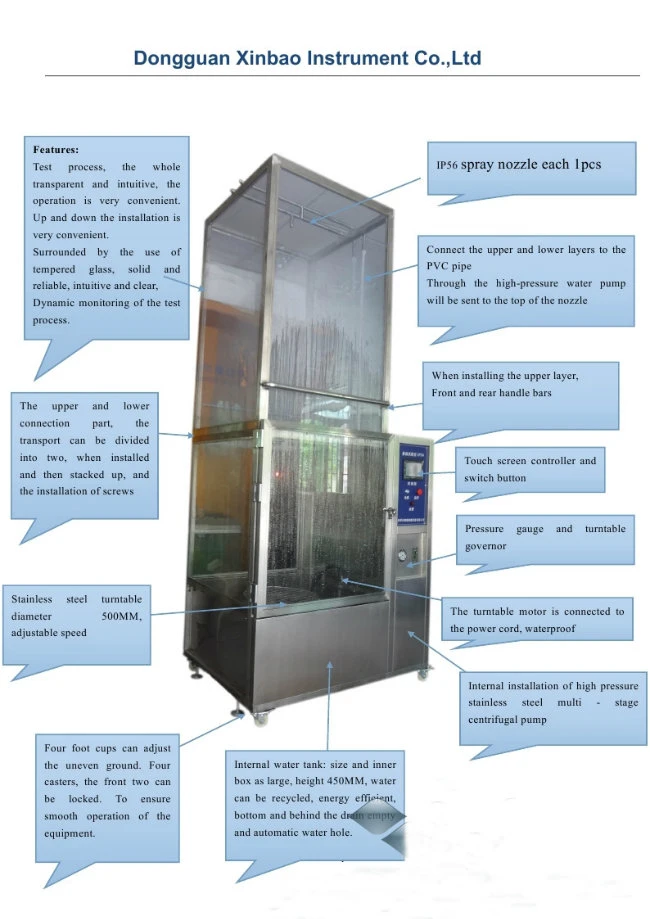 Use:
Waterproof test system is according to IEC60529, IEC60598, IEC60335 and IEC 60034-5:2000. The IP-X includes the following test grades: IPX1, IPX2, IPX3, IPX4, IPX5, IPX6, IPX7 and IPX8 (Refer to page 51 of IEC60529). It is widely used in the authentication test organization for the products such as electrical & electronic products such as LED luminaires as well as in the relevant quality control department for the waterproof detection of the enclosures protection grades.

Certificate:
Global safety design, use our chambers safely and with peace of mind for many years to come.
We deliver chambers that conform to international safety standards.
Our chambers conform to ISO risk assessment as well as global safety design electrical safety standards such as CE marking and EMC directive.


Packing & Shipping
Packaging Details:Strong wooden case
Delivery Detail: 20 days after getting the payment

Our Services:
We are here to help you. Services available:
Replacement manuals
Consumables and replacement parts

On-site maintenance and repair

Warranty support

Over-the-phone service support and advice
If you have an OTS chamber , we will do our best to help you in whatever way we can.
Manuals: PDF files of manuals for current models are available free. Please contact us to request a copy. Older and printed copies at additional charge.
Service repair: We prefer you contact us direct at the factory with any problems you may be experiencing. We help diagnose the problem, arrange for any needed parts, and schedule a technician to do the repairs. Rarely can a local contractor get all that done for you as quickly as we can. We also guarantee the work .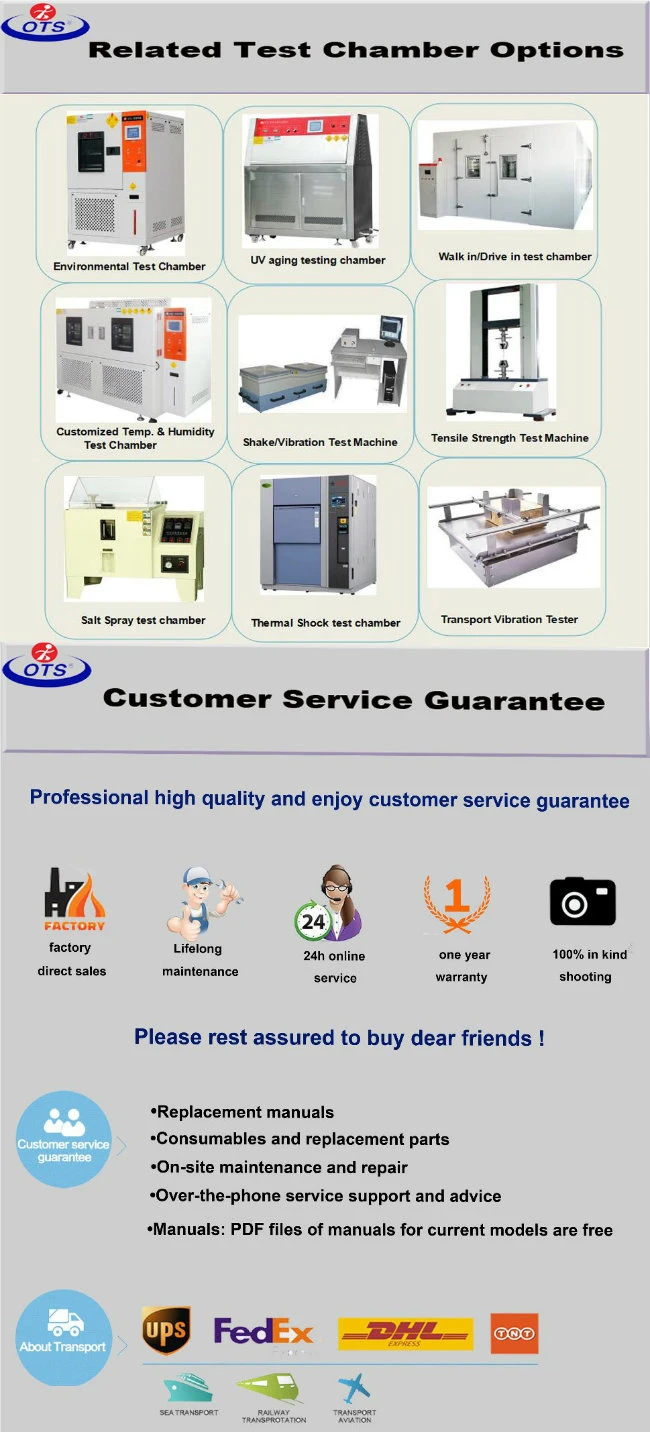 Our Company
OTS (Overall Testing System)
Was established in 1978, with 35 years' history
With 30,000 square meter salable production base and 120 employees
Is one of the leading companies solely dedicated to manufacture of
Environmental Simulation Test Chambers ,Physical Testing Equipment .
(such as constant temperature and humidity chambers, environmental chambers, climatic test chambers, rain and dust test chambers,thermal shock test chambers,fast change rate chambers, salt spray chamber,UV test chambers,walk in test chambers and other special customized test chambers ; tensile testing machine, vibration test machine ,carton compression testing machines, bursting strength testing machine etc.) ..
OTS has the equipment and expertise, with own R&D and consultant team, to meet and exceed your testing requirement. with offices in unrivaled quality advantage, dynamic management team with superb manufacturing process,also the quality with the world norms: ISO , ASTM, DIN, EN, GB, BS, JIS, ANSI, UL,CE, TAPPI, AATCC, IEC, VDE...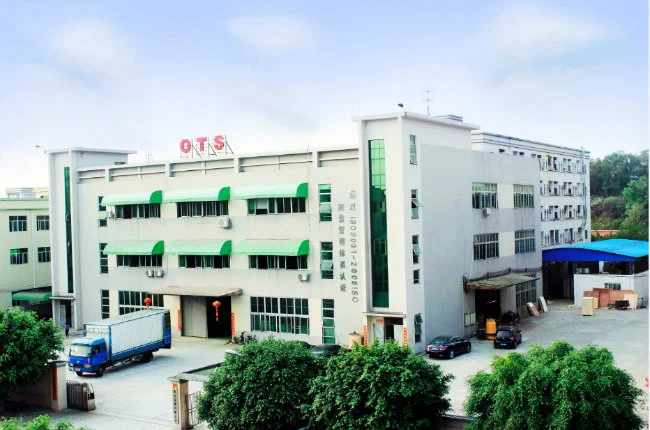 FAQ:
Q1 : Can you customize the product?
A: Yes, we can customize any products according to requirements.
Q2 : How to choose the most suitable products?
A: Our professional team will give you the best suggestion,just be patiently to tell us the information about the parameters your required.
Q3 : Can you arrange installations and commissioning in our lab?
A: Firstly, for standard chamber we had 3-5 days commissioning before shipping , you just need link power in your lab, then can start to operate
Secondly; we had detailed operation manual with chamber , any problems you can find and solve in it
Thirdly, some of customized chambers we should to install and teach your team to operate .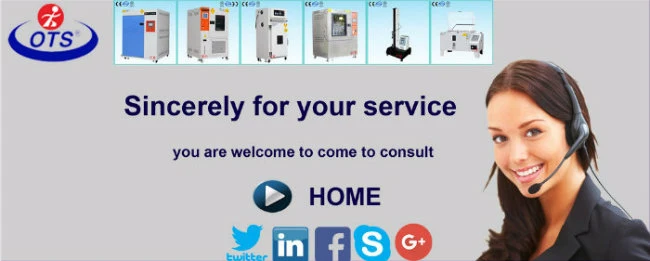 If you want to know more information...
Please leave a message below and click " SEND "
Thanks for your time and attention~Thank you!